Sale!
Dust Care Majestic electric hose set (Pig Tail)(Shipping Included)
From: $229.00
(FREE SHIPPING IN US) Universal central vacuum hose set. Replaces any brand pig tail hose set. An entry level priced hose set with deluxe hose set features. Including a dual brush, metal brush roll , 30 ft crush proof hose, and deluxe tool set.
Product Description
The Majestic central vacuum electric powerhead and hose set gives you a deluxe powerteam at a economical price. This head features a dual brush, metal brush roll usually only found on the highest end models.  It is our best seller because it comes so competitively priced yet has all of the deluxe features of the more expensive hose sets.  Where most entry level powerheads include a single brush, plastic brush roll and a flat belt this powerhead has a metal dual brush and a cogged belt that is designed to last for 10+ years.  Most flat belts have to be replaced every 2-5 years.  Do not be mislead by the price of this hose set it is superior to all entry level hose sets and on par with some of the very best ones on the market.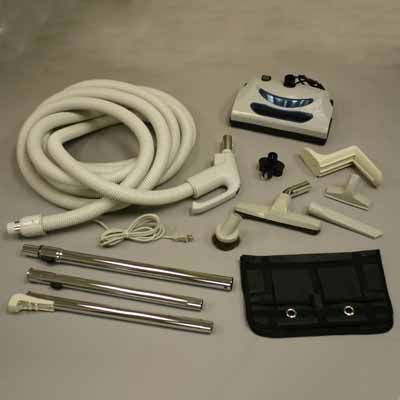 Crush proof 30 ft pig tail hose
Majestic powerhead, with deluxe dual brush metal brush roll
Metal telescopic wands, no plastic wands
Deluxe 12 inch floor brush
Deluxe upholstery brush
Deluxe dusting brush
Deluxe crevice tool
Deluxe hose hanger
Deluxe Storage bag
Deluxe tool caddy
Additional Information